On August 6 – 7 2016, "Team ASPS" participated for the 13th time in the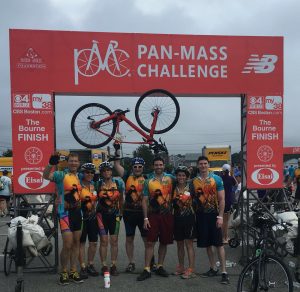 Pan-Massachusetts Challenge (PMC) bike ride. This bike-a-thon crosses Massachusetts to raise money for cancer research and treatment at the Dana-Farber Cancer Institute (DFCI) in Boston. Our team rode 163 miles and raised $49,117 specifically dedicated for finding a cure for ASPS.
Registration for the 2017 PMC bike ride is now open and we would like to encourage you to help us with fundraising and joining our team.
Donations will continue to support the efforts of Dr. George Demetri, Dr. Andrew Wagner and Dr. Ewa Sicinska to identify novel drugs and initiate new clinical trials for ASPS patients.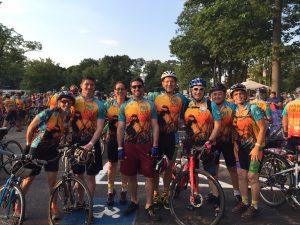 We will continue to update you on the results of these efforts as well as on ASPS research and clinical trials elsewhere.
We thank "Team ASPS", our donors and to the ASPS community for all the relentless support for our efforts to find a cure for ASPS.
Below are Photos taken during the 2016 PMC bike ride.
Thank you for your support!
_____________________________________________________
Yosef Landesman, Ph.D.
President & Cancer Research Director
Cure Alveolar Soft Part Sarcoma International (iCureASPS)
e-mail: landesmany@yahoo.com