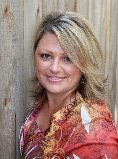 Patti Spires Hamilton was born at Ft. Meade, Maryland, on September 3, 1967, and passed away in Houston, TX on August 20, 2012. Her life was cut short by Alveolar Soft Part Sarcoma (ASPS), unfortunately undetected and unrecognized by the physicians who treated her for various other "ailments" during the past several years.
Patti was a beloved wife, mother, daughter, and friend. She was full of life and love. Patti offered understanding, compassion, and the gift of friendship to everyone she met.
She also loved people. To know Patti was to know her heart for relationships. She never dismissed someone because she thought them too insignificant, or because she was too consumed with her own life and schedule. She offered real compassion in an all too often uncompassionate world.
At the end of her life, she expressed her compassion – and developed a passion – for other ASPS sufferers by wanting to help with awareness, and finding a cure. While she was not granted a chance to fight ASPS in her own body, Patti hoped that her case would shed more light on the darkness surrounding this as of yet obscure, and largely unknown disease.
Patti leaves behind her husband Houston Hamilton Jr., four children: Brianne Burleson, Blake Burleson, Lauren Hamilton and Taylor Hamilton, and parents Jerry and Trixi Spires, as well as loving extended family and friends who miss her very much.
The ASPS community is sending condolences to Patti's family and friends, and hope for a soon to come cure for ASPS.