In collaboration with iCureASPS, Dr. George Demetri, Dr. Massimo Loda, and Dr. Ewa Sicinska at the Dana Farber Cancer Institute in Boston have started a new initiative that aims to find an effective therapy for Alveolar Soft Part Sarcoma. This research will make use of a cell line that was established from a tumor taken out of an ASPS patient. This cell line grows into a tumor when transplanted into mice, and has the characteristics of an ASPS tumor (see figure). It will be used as a tool to search for effective drugs against ASPS.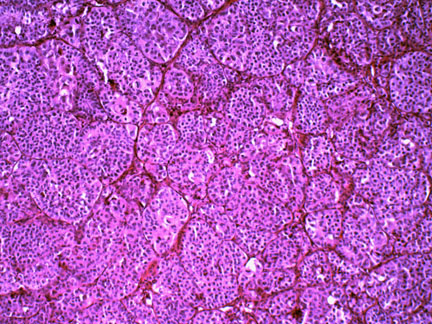 Please read the description below and help us raise the needed funds for this project!
Dr. Ewa Sicinska conducts the research. She explains:
"Our goal is to establish a mouse xenograft model, which could be used for pre-clinical trials without the involvement of patients. First, we injected the ASPS cell line into mice. After the tumors grew, we subcutaneously transplanted small fragments of tumor into recipient Nu/Nu mice. Currently, we've transplanted tissue into passage 2 mice*. Histopathology of the tumors generated in subsequent passages revealed that the morphology of the tumors doesn't change, and is identical to the appearance of tumors in humans. We are planning to implant these tumors into multiple recipients, and use them for treatment with new drugs."
* this means the tumor has been propagated from mouse to mouse, and currently is growing in the second round of mice – this is a measure of robustness of the system.
In August 2011, Team ASPS will ride for the 8th time the Pan-Massachusetts Challenge (PMC). The PMC is a bike-a-thon that crosses Massachusetts to raise money for cancer research and clinical trials at the Dana-Farber Cancer Institute in Boston.
Team ASPS will dedicate this year's PMC fund raiser to support the development of this new and promising ASPS tumor model research project. 
In the past 7 years through the efforts of Team ASPS and iCureASPS, we raised and transferred nearly $300,000 exclusively for ASPS research programs at the Dana Farber and also to other research institutions in the US and the world. Thanks to those efforts, the first "Cancer Vaccine" Clinical Trial (GVAX) to treat ASPS was opened in January 2005. This clinical trial was followed by the ARQ197 clinical trial, and now by the Cediranib clinical trial. 
There are two convenient ways to donate:
1. Online donations through the PMC website: (http://www.pmc.org/).  In the upper left box, please type my name: "Yosef Landesman" and click "find". Then click on my name and "donate to my ride". You can also donate to any of the riders in Team ASPS, or directly donate to the Team.
2. You can write a check payable to "PMC-Team ASPS YL0002".  For address, please contact me by using my e-mail address below.  
Your donation is fully tax deductible. The PMC tax ID is 04-2746912.
I thank you for your support.
______________________________________________________
Yosef Landesman, Ph.D.
President & Cancer Research Director
Cure Alveolar Soft Part Sarcoma International (iCureASPS)
e-mail: landesmany@yahoo.com