(UPDATED July 29, 2007) A few weeks ago, iCureASPS team started its training for the PMC bike ride that will take place August 4-5 2007. The fundraiser to support the research and clinical trial at the Dana Farber Cancer Institute is open. Please take the initiative TODAY. Please make a donation NOW to support the efforts to find a cure for Alveolar Soft Part Sarcoma.
Our team ride July 15 was dedicated to the 2007 Team Sarcoma Initiative (SEE OUR TEAM PHOTO BELOW). Team Sarcoma is an internationally coordinated set of events to raise awareness of sarcoma and funds to support sarcoma research, clinical trials, and patient and family services. Our 50 mile ride was one of over 50 "Team Sarcoma Events", which took place in 13 countries and 21 states in the USA, July 14-21 2007.
Please click the following link to see a short presentation about Sarcoma: A Forgotten Cancer.
Please click the link below to read about the various Team Sarcoma Initiative: 2007 Team Sarcoma Initiative Events.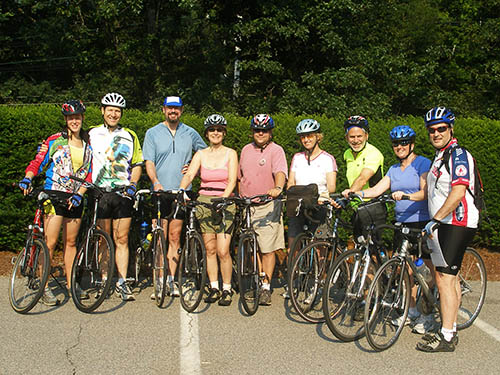 ______________________________________________________  
Yosef Landesman, Ph.D.
President & Cancer Research Director
Cure Alveolar Soft Part Sarcoma International (iCureASPS)
e-mail: landesmany@yahoo.com