Join us in our fight against Alveolar Soft Part Sarcoma (ASPS) by sponsoring runner Danna Quinn in the "P.F. Chang's Rock'n Roll" Marathon & Half Marathon on January 14th, 2006 in Phoenix, AZ.
Contributions are tax deductible.
Danna Quinn, mother of Matt will be running the half marathon in memory of her beloved son and will be raising money for the current ASPS cancer vaccine clinical trial at the Dana Farber Cancer Institute in Boston. All money raised will go directly to support ASPS research and trials. Danna is hoping that everyone in the ASPS community can sponsor her for a dollar or two a mile (13 miles is how far she will be running). This is the First Memorial event for Matt, and Danna hopes everyone understands how important is it to continue to fight this terrible disease in Matt's memory.
About Matt: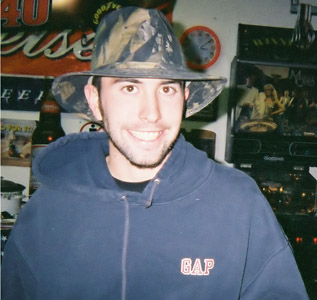 Matthew was a senior in high school and a varsity football player in September of 2003 when he noticed a lump on his hip. Doctors' visits, tests, and biopsies followed and in early October, at the age of 18, he was diagnosed with a very rare cancer called Alveolar Soft Part Sarcoma (ASPS). Given his excellent physical condition, we believed that he would fight and win his battle, but ASPS is a formidable opponent. It is a chemo resistant cancer and there is currently no known cure. At the age of 19, only 10 months after his diagnoses and just 2 months after his high school graduation, he was called home. He fought the brave fight, amazing all with his courage and his continued love, care and concern for others in the face of his own struggles. Matt was truly an angel on earth, and we know he continues to watch over us. He touched not only his entire family, but the countless friends, teachers, coaches and even the acquaintances that crossed his path. His spirit lives on in each of us that were fortunate enough to have known and loved him.
How to make a donation:
Please make checks payable to "Team ASPS". Dollars go directly to Dana Farber Cancer Institute through The Pan Massachusetts Challenge (PMC). PMC is a non profit organization under section 501c3. There are no administrative costs, so all dollars raised go directly to the clinical trials and are designated specifically for ASPS.
For the address to send checks and more information please contact Danna Quinn.